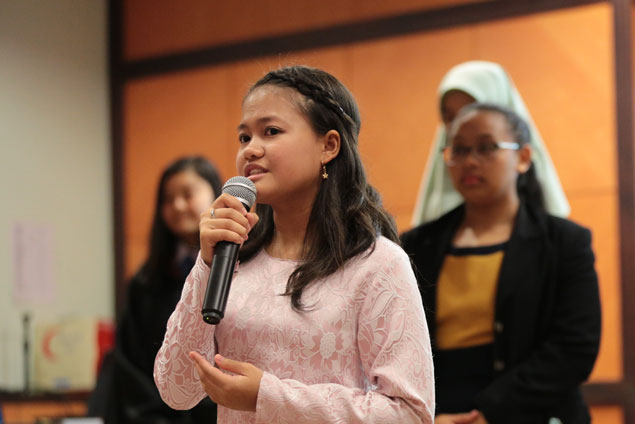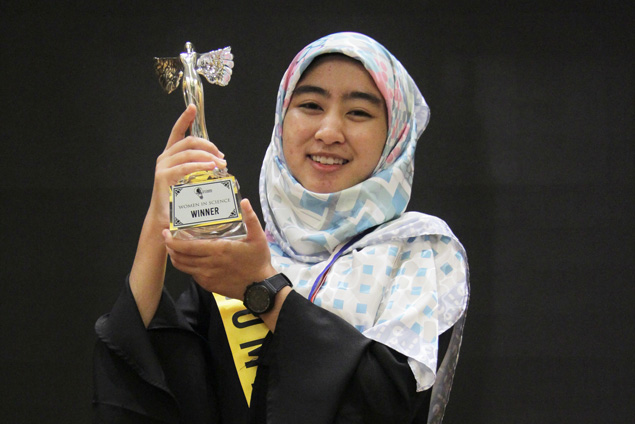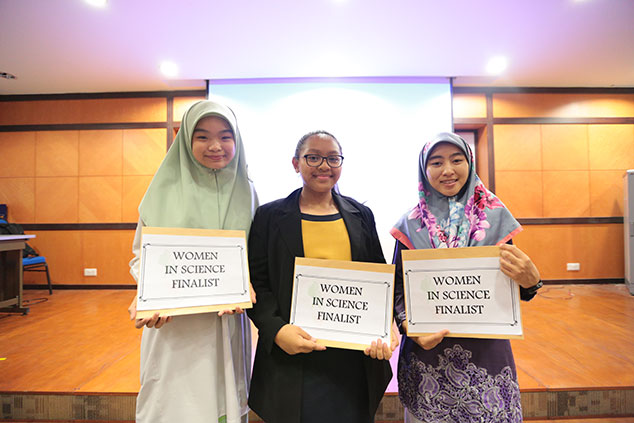 This competition provides students with the opportunity to play a significant role in the society and their school to conduct their projects. The projects are mainly aligned with the Sustainable Development Goals as part of awareness, educational or research initiatives. Our centre will accept as many proposals submitted by students and the best proposals will be moving forward to the camp.
Women in Science not only provide amazing opportunities but also as a platform for students to grow and strengthen their skills in project management, communication and leadership (which are adapted from NXplorers program by Shell) in our boot camp. The boot camp conducts team building activities, challenges and games to tests the students of their capabilities.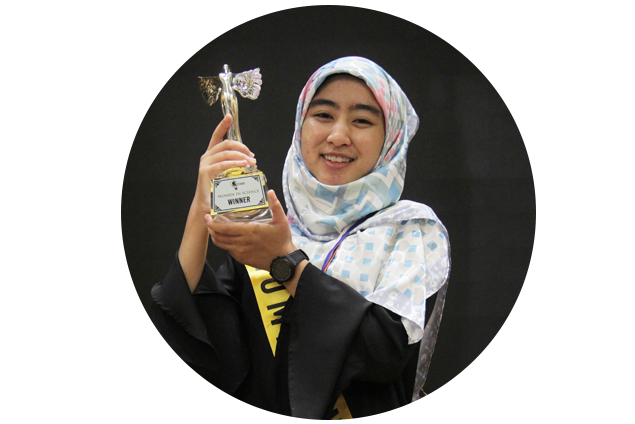 First Women in Science 2019 Winner – Arinah Hadirah binti Sharom
"Knowledge that a girl has need to be seen because their dreams are bigger than anything"
– Arinah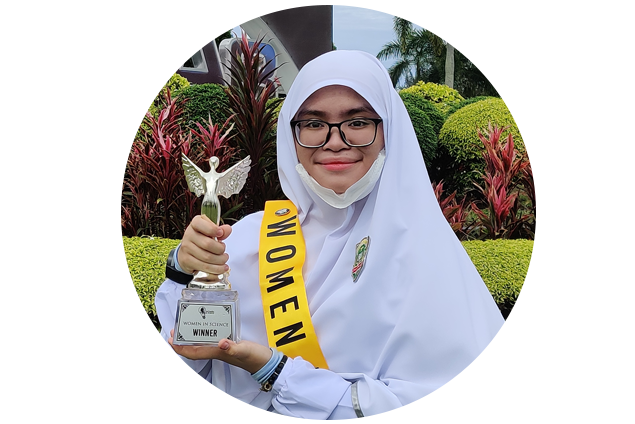 Women in Science 2020/2021 Winner – Nuramanina @ Siti Hawa binti Hj Arifin
"Being one of the participants of Women in Science has changed me in terms of my confidence, speaking skills, I am more exposed to STEM education and because of that I am able to think critically and find the perfect solutions to my problems"
– Nuramanina
Women In Science 2022 Winner – Rahimah binti Mohammad Basiuni @ Radin Mas Basiuni, Mishael Alleysha Rafiqin binti Rani and Jovena Tan Wie
"Joining the Women In Science Competition is a good milestone for young women who are going to pursue the field of STEM as it will help build your skills on communication, teamwork, and leadership."
– Mishael Alleysha Rafiqin binti Rani
Description
The Women in Science (WIS) Competition is back again with its fourth instalment and this year we invite young female students ages 15 – 18 years old to join the competition with the aim to develop their 21st century skills, digital literacy and knowledge in STEM (Science, Technology, Engineering and Mathematics). This year, the theme is "A Brighter Future".
Objectives
Design Thinking for Innovative Ideas
Participants will enhance their knowledge on design thinking and will create solutions and prototypes of either new or previous inventions that will benefit our community and are in line with Sustainable Development Goals.
Skill Enhancement
Participants will receive training for various skills such as communication, problem-solving, pitching and more to ensure that our participants are well-equipped for different challenges.
Digital Literacy Development
Participants will explore computer and technology literacies from various invited facilitators who are experts in areas such as app development, creative design and more.
Theme for Women In Science Competition 2023
The theme for the Women In Science Competition in 2023 is "A Brighter Future".
The theme reflects on technological innovations which could be implemented to solve local challenges that our community is facing. The theme is a response to Wawasan 2035 Goals which are:
Goal 1: Highly Skilled Citizens
Goal 2: High Quality of Life
Goal 3: A Dynamic and Sustainable Economy.
SEL invites young female inventors in Brunei Darussalam to innovate new or existing technologies relevant to this year's theme. This may be in the form of software, website or application. Participants will be given training during the bootcamp.
Requirements
Female students studying in any school in Brunei
Aged between 15 – 18 years old
Must be in teams of 3
Must have a Supervising Teacher
Willing to participate in the competition throughout 2023
Eager to learn about STEM (Science, Technology, Engineering and Mathematics)
Passionate about contributing to the community and the future
Must make a payment of BND75 (per team) for the registration fee. This is only applicable once the team is selected
The Journey To A Better Future
| STAGES | PERIOD |
| --- | --- |
| Stage 1: Open Application | 1st April - 16th July 2023 |
| Stage 2: Bootcamp | 21st, 22nd & 27th August 2023 |
| Stage 3: Pitch Day and Preliminary Round | 17th and 24th September 2023 |
| Stage 4: Project Execution | 1st October 2023 - 31st January 2024 |
| Stage 5: Final Assessment and Awards | February 2024 |
FOR PROPOSAL SUBMISSION
Interested teams must submit their application, as a group, via our form latest by 16th July 2023.
No submission fee applied.
Each school can only submit a maximum of 5 teams.
Only 15 teams will be selected to enter the competition.
If the team is selected to enter the competition, the team is required to pay a registration fee of BND75.00 per team. (The choice of entering the competition is not compulsory)