DESCRIPTION
One of SEL's most popular teaching approach is the Science Show. A science show is a form of science communication that falls in the informal science learning group that incorporates live performances with dramatic gestures and actions.
LEARNING OBJECTIVES
Emergence of Innovative Learning
As we entered a new modern era, our younger generation is more inclined to interactive teaching approach. Science show is a great way for children and young adult to be more fascinated to the exciting world of science as it combines both entertainment and education. Learning from the interaction of the performers and the fun demonstration are proven to be an effective innovative learning.
To Introduce Science, Technology, Engineering and Mathematics.
Younger demographic sees STEM education as challenging and intimidating. With Science Show, this will be an eye-opening experience for the audience to see that STEM education can be exciting.
Every performer of the show will be bringing their own style to the spotlight for the enjoyment and understanding of the audience. Science show is suitable for everyone!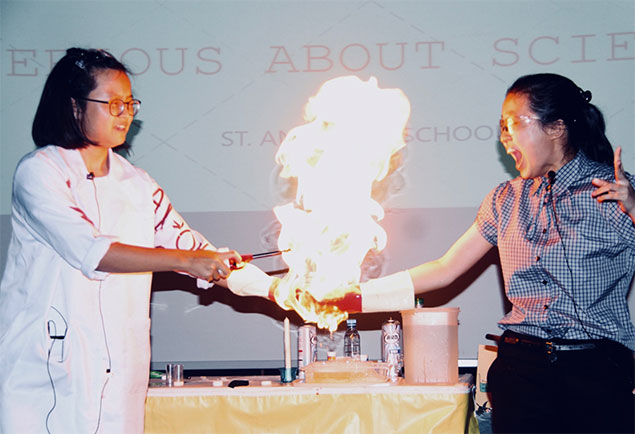 | DAY | TIME | TOPIC |
| --- | --- | --- |
| Tuesday | 10.00am -10.45am | Fire and ice |
| Wednesday | 10.00am -10.45am | Prof chroma |
| Thursday | 03.30pm - 04.15pm | Prof chroma |
| Friday | 02.30pm - 03.15pm | Fire and ice |
| Saturday | 11.00pm - 11.45pm | Prof chroma |
| Sunday | 10.00 pm - 10.45pm | Fire and ice |
DESCRIPTION
Fire show and Liquid Nitrogen show are the most popular and anticipated science shows at SEL. Fire gives off the essence of excitement with a lot of explosions and flames, while the introduction of Liquid Nitrogen leaves the audience curious and fascinated by the cold mist.
LEARNING OBJECTIVES
Introduction of the fire element with basic information of how it is made.
Introduction of Liquid Nitrogen to the audience.
Presenting both shows will inspire the audience to conduct their own experiments at home of hot and cold.
To entertain the audience with the explosive demonstrations that will make them come to SEL regularly.
DESCRIPTION
Professor Chroma Potion Class (PCPC) is a experimental story centered show that focuses on Professor Chroma, incorporating science (chemistry) to the world of magic. This science show will be immersive, interactive and fun for all age groups.
LEARNING OBJECTIVES
Introduction to Chemistry and Reactions.
Introduction to color mixtures.